Vietnam - Open for Tourism, here's what you'll need
Vietnam - Open for Tourism
Trustpilot recommended. We lead the industry in innovation and reputation
Learn More: eVisa
The ultimate guide to Vietnam eVisa: Everything you need to know
Are you planning to visit Vietnam? This Southeast Asian country has a rich culture, many outdoor activities, good food, and welcoming people. No matter how long you spend there, there will always be something fun to do in Vietnam. The Vietnam eVisa might be the perfect solution to get a visa for this destination.
In this ultimate guide, we'll provide you with all the essential information you need to know about the Vietnam eVisa requirements, how to apply for this electronic visa, fees, and processing times. Keep reading and find out all you need to get the Vietnam eVisa quickly and affordably!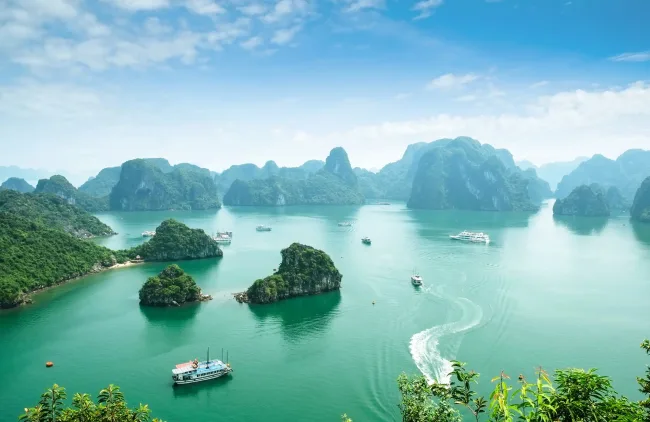 What is a Vietnam eVisa?
The Vietnam eVisa is the most common visa to visit the country. The Vietnam Immigration Department developed this electronic visa to facilitate the tourist flow and boost the economy. This visa allows foreign citizens to enter and stay in Vietnam for a specific period for tourism, business, and transit purposes.
The eVisa is a convenient and time-saving option for travelers compared to traditional visa application methods. The visa application is 100% online, so you can apply with a few clicks from the comfort of your home.
Be aware that, similar to other tourist visas, you cannot work in Vietnam with a tourist visa.
Getting the Vietnam eVisa can be tricky, but we simplify the process. It's also possible to download the iVisa app and apply instantly from your mobile device.
Who can apply for a Vietnam eVisa?
If you aren't from a visa-exempt country, you need a visa to enter Vietnam, including passport holders from the United States.
A child under 14 who is included in their parents' passports can apply with them. All other minors must have their own visa to enter Vietnam. Simply click "Add Another Person" during the application process with iVisa to apply together.
Get your Vietnam eVisa quickly with us
Visa-exempt countries
Citizens of the following countries can visit Vietnam without a visa:
| Belarus | Indonesia | Philippines |
| --- | --- | --- |
| Brunei | Italy | Russia |
| Cambodia | Japan | Singapore |
| Chile | Kyrgyzstan | South Korea |
| Denmark | Laos | Spain |
| Finland | Malaysia | Sweden |
| France | Myanmar | Thailand |
| Germany | Norway | United Kingdom |
Which countries are eligible for the Vietnam eVisa?
If your country isn't on the list above, you must apply for the Vietnam eVisa before you go. Not sure? Use our Visa Checker Tool to verify your eligibility for the Vietnam eVisa.
Chinese e-passport holders can apply for an eVisa or a Vietnam Visa on Arrival.
Entry points for Vietnam eVisa holders
Vietnam eVisa is now available for air travelers, land crossing, or cruise passengers. However, the Vietnamese Immigration Department determined specific entry points for foreigners. You must enter the country via the one provided on your Vietnam eVisa.
International airports:
Cat Bi Int Airport (Hai Phong)
Cam Ranh Int Airport (Khanh Hoa)
Can Tho International Airport
Da Nang International Airport
Noi Bai Int Airport (Hanoi)
Phu Bai Int Airport
Tan Son Nhat Int Airport (Ho Chi Minh City)
Land borders:
Bo Y Landport

Cha Lo Landport

Cau Treo Landport

Huu Nghi Landport

Ha Tien Landport

Lao Bao Landport

Lao Cai Landport

La Lay Landport

Moc Bai Landport

Mong Cai Landport

Nam Can Landport

Na Meo Landport

Song Tien Landport

Tinh Bien Landport

Tay Trang Landport

Xa Mat Landport
Seaports:
Chan May Seaport

Da Nang Seaport

Duong Dong Seaport

Hon Gai Seaport

Hai Phong Seaport

Nha Trang Seaport

Quy Nhon Seaport

Ho Chi Minh City Seaport

Vung Tau Seaport
Vietnam eVisa validity: How long can I stay in the country?
The visa validity is 30 days after arrival. You can enter Vietnam and stay in the territory for up to 30 days in Total from when you arrive. Remember, it's a Single Entry visa, so if you leave Vietnam, you must apply for a new visa to re-enter the country.
If you need a long-term Vietnamese visa or work permit, contact your nearest Vietnamese embassy or consulate for more information.
Apply for your Vietnam eVisa online with us!
Vietnam eVisa requirements
To get a Vietnam Tourist Visa, you must meet certain requirements and submit some documents. Here's everything you need to know:
Entry requirements
Entering Vietnam, you must present the following documents at the entry point:
A valid passport

A valid visa
Required documents for the Vietnamese visa application
Here are the necessary documents to complete the Vietnam visa application form:
Valid passport: You must scan the passport data page.

Two recent passport photos: If you don't have one, no problem! Simply use our online passport photo service from the comfort of your own home.

Valid email address: To receive your eVisa confirmation.

Payment method: PayPal, Venmo, Amazon Pay, credit, or debit card to pay the visa fees.
Vietnam eVisa passport requirements
Ensure your passport meets the following criteria:
Your passport must be valid for at least six months beyond your intended travel date. If your passport expires before then, officials will deny your visa application.

Your passport must have at least two blank pages for stamps.
Vietnam eVisa photograph requirements
The applicant's passport photo must meet the following requirements:
The photo size should be 4x6 cm (Vietnamese photography standard size) or 2x2 inches.

It must be taken within the last six months.

It must be in color and printed on professional photo paper.

It must capture your entire face, viewed directly against a bright, solid background.

Hats or head scarves can only be worn for religious purposes.

Black or over-the-counter glasses with tinted lenses aren't accepted unless requested for medical reasons.

Don't smile or laugh in the photo. Keep a neutral facial expression.
Remember, you can use our passport photo service to get a 100% compliant-photo stress-free.
Vietnam eVisa application: Financial requirements
Vietnam visa policy doesn't have financial requirements, so you don't need to attach proof of sufficient funds in your visa application.
How can I apply for the Vietnam visa online?
Applying through iVisa
Applying through our online platform is the easiest way to get your Vietnamese eVisa. It only takes a few minutes to apply, and we'll take care of the rest. Just follow these three easy steps on our iVisa app or online:
Step 1: Fill out your personal and travel details on the application page. Then, choose the preferred processing time.

Step 2: Double-check your information and pay the visa fees with a credit or debit card, PayPal, Venmo, or Amazon Pay.

Step 3: Upload the supporting documents and click "Submit."
The approved eVisa document will be sent via email. Ensure you keep a digital copy on your device and a printed version to show to the official Vietnam Immigration Department on arrival.
Don't leave your application to the last minute and apply now!
Applying through the Vietnam government website
Another option is to apply directly on the Vietnam Immigration Department portal. In this case, you only need to pay the government fee (US$25). However, be prepared to face a long and confusing visa application form.
Applying through a Vietnam embassy
You can also apply by visiting the nearest Vietnam embassy. You must download the visa application form or get it at the Embassy to begin the process. After completing the application form, you must schedule a visa appointment to submit all the required documents and pay the visa fee. You may also be required to provide your biometrics (fingerprints and photo).
After submitting your application, you must wait for officials to process your visa. Once completed, you must return to the Embassy to pick up your passport and visa. Plan accordingly and allow sufficient time for this process to avoid any travel complications.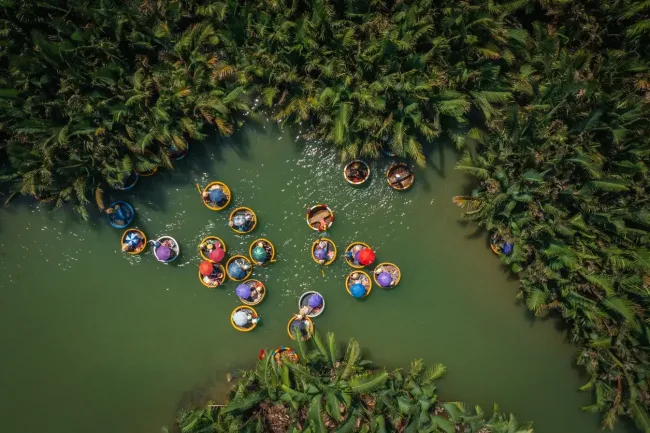 Vietnam eVisa: Processing time
When applying online with us, you can receive your eVisa in as little as 5 days! The time depends on your nationality and the processing time you choose. Here are the processing options for US citizens:
Standard Processing: Get your Vietnam eVisa in just 11 days.

Rush Processing: This option is slightly faster and takes just 9 days.

Super Rush Processing: For those urgently needing a Vietnam eVisa, we offer an option that takes just 7 days.
Complete your application here
Vietnam eVisa: fees and costs
The costs include the government and service fees if you apply with us. The price may vary according to your nationality and chosen processing time. Check out the options for US travelers:
Standard Processing: Your Vietnam eVisa will cost USD $86.99.

Rush Processing: This option costs USD $137.99.

Super Rush Processing: To get the Vietnam eVisa as fast as possible, you'll be charged a USD $199.99 fee.
Submit your Vietnam eVisa application today!
Do I need this eVisa if I am transiting through the country?
No, travelers not planning to leave the airport and not staying more than 24 hours don't need to apply for the Vietnam eVisa.
Can I extend my Vietnam eVisa?
You can apply for a visa extension at the Vietnam Immigration Department. You can extend your eVisa for 15 days, one month, three months, or six months. The immigration officers will decide the number of days they'll grant you, depending on the purpose of your visa extension.
Benefits of applying with us
Applying with us is easy and quick! Here are some of the benefits of getting your Vietnam eVisa through our website or app:
Saves your time: It's an online visa application, so forget about wasting your time with embassy appointments. It takes less than 15 minutes to submit your application!

100% government-compliant: Our team of iVisa experts will review all information and ensure it's 100% compliant with government requirements.

Simplified form: Getting a visa can be confusing and tedious. At iVisa, we only include relevant questions, making the application up to 50% shorter than usual! It's like filling out a short survey.

Fill it out at your own pace: Save your progress, make changes, and come back to it later whenever you need a break.

Get support anytime: Contact our customer support team anytime you have questions about your visa application! We're always ready to help you.
Get your Vietnam eVisa hassle-free
Vietnam COVID-19 travel restrictions
Vietnam is open for tourists, regardless of their COVID-19 vaccine status. No quarantine is required, and all regulations for SARS-CoV-2 testing are no longer applicable.
Since information may change quickly, we advise you to follow up on the latest Vietnamese travel updates or contact your nearest embassy.
Vaccine requirements for traveling to Vietnam
There are no vaccine requirements to visit Vietnam. However, to make sure you have a safe and healthy trip to Vietnam, it's recommended that you get certain vaccines. Here are the vaccines you should consider getting:
Recommended Vaccines
Hepatitis A: Recommended for all travelers to Vietnam.

Typhoid: Recommended for most travelers to Vietnam, especially those staying in or traveling to smaller cities, villages, or rural areas.

Hepatitis B: Recommended for travelers who may require medical treatment or have any other contact with blood or body fluids.

Japanese Encephalitis: Recommended for travelers who plan to spend a month or more in rural areas or for short-term travelers who plan to visit during the Japanese encephalitis transmission season.

Rabies: Recommended for travelers who will be in contact with animals, especially dogs, bats, and other carnivores.

Influenza: Recommended for all travelers to Vietnam, regardless of the season. Routine Vaccines:

Measles, mumps, rubella (MMR): Recommended for any unvaccinated person born after 1956.

Varicella (chickenpox): Recommended for any unvaccinated person who has not had chickenpox.

Polio: Recommended for adults who completed the childhood series but never had a booster dose.

Tdap (tetanus, diphtheria, and pertussis): Recommended for all adults, especially those who have not received the vaccine in the past ten years.

Pneumococcal: Recommended for all adults 65 years of age or older or those with certain medical conditions.

Meningococcal: Recommended for travelers who may have prolonged contact with locals or be at risk because of a specific medical condition.
Check further information on the CDC website.
Visiting Vietnam: Travel tips
Vietnam is a beautiful country with much to explore and discover. Read our Vietnam Travel Guide for detailed information to plan your trip. Check below some key travel tips for visiting this fantastic destination.
Vietnamese Culture
Dress Code: When traveling to Vietnam, dress conservatively when visiting religious sites. Avoid wearing revealing clothing, and always cover your shoulders and knees.

Tipping: Tipping isn't common in Vietnam, but it's very appreciated. If you receive exceptional service, a small tip is a nice gesture.

Currency: The official currency in Vietnam is the Vietnamese Dong (VND). US dollars are also accepted in some places, but it's always best to carry Vietnamese Dong.

Language: The official language in Vietnam is Vietnamese, but English is spoken in most tourist areas.
Safety in Vietnam
Vietnam is a safe country to travel to, but being cautious and aware of your surroundings is always important. Here are some safety tips for traveling to Vietnam:
Petty crimes, such as pickpocketing, can occur in busy tourist areas. Always keep your valuables close and avoid carrying large sums of money.

Traffic in Vietnam can be chaotic, and road accidents are common. Always be cautious when crossing the street, and avoid renting a motorbike unless you're an experienced rider.

Vietnam is prone to natural disasters, such as typhoons and floods. Always check the weather forecast and be prepared in case of an emergency.
Customs policy in Vietnam
Be aware it's prohibited to import drugs, firearms, and explosives into Vietnam.

It's illegal to export weapons, ammunition, explosives, military technical equipment, antiques, drugs, toxic chemicals, wild animals, rare and precious animals, and plants.

There are no currency restrictions, but Vietnamese Dong above VND 150,000,000 or foreign currency over US$5,000 U.S. dollars or equivalent must be declared to enter or exit Vietnam.
More questions about traveling to Vietnam?
If you have more questions about the Vietnam eVisa online application process, please contact our expert customer support team, available 24/7, via online chat or email at [email protected].
Required Documents to Apply
Applicant's Photo

Passport Scan

Last Page of Passport (if applicable)
Important Instructions
The e-Visa is a Single Entry visa.

The e-Visa is valid for 30 days in Total from the proposed date of entry indicated during the application.

e-Visa holders may remain in the Socialist Republic of Vietnam for a maximum of 30 days in Total

Once the first 30 days in Total have passed and a renewal is needed, e-Visa holders in Vietnam may be considered for a new visa if they are invited/sponsored by an authority, organization or individual in Vietnam, in accordance with the law on foreigners' entry into, exit from, transit through and residence in Vietnam.

The applicant's passport must be valid for at least 30 days after arrival in Vietnam, and it must have at least two blank pages for a stamp/sticker from the immigration/border control officer.

Minors with their own passport must complete a full e-Visa application. Minors aged 14 and under included on their parent's passport will have to be included on their parents e-Visa application.

Applicants are required to carry a copy of their e-Visa at all times during their stay.