Kuwait eVisa: Apply for your Kuwait Visa Online
Kuwait -
open for tourism, here's what you'll need
open for tourism
Trustpilot recommended. We lead the industry in innovation and reputation
Learn More: eVisa
Content updated, September 2022
Travel to Kuwait with your eVisa!
In 2016, the Kuwaiti Government launched the Kuwait Online Visa, which is an electronic travel authorization created to streamline the visa application process. This new system drastically reduces time at border checkpoints and eliminates the necessity of visiting an embassy in person.
As of 24 October 2021, Kuwait has re-opened for tourism, and luckily, iVisa has collected the most relevant information on how to fill out your Kuwait visa application and other entry permits or travel documents. You'll avoid the bothersome paperwork, and you don't even have to visit a Kuwaiti immigration office or embassy before your upcoming trip.
Visit our Visa Checker widget at the top of this page and confirm it is all you need for your international trip to Kuwait. Our team can help you if you have questions about the Kuwait e-visa issuing service, and you can pay the fees with a credit or debit card.
What is the Kuwait visa?
The Kuwait eVisa, introduced in 2016 by the Government of Kuwait, is a short stay authorization document that allows visitors to travel to Kuwait for tourism purposes. The eVisa eliminates the need for a traveler to go to any embassy or consulate and complete the whole process online.
Upon arrival, the Immigration Officers from Kuwait will verify that all the data on your eVisa is valid and up to date. Please keep this document safe while you travel in Kuwait.
What countries are eligible to apply for a Kuwait e-Visa?
The following countries are eligible for an e-Visa:
Andorra
 Estonia
 Liechtenstein
 Serbia
 Australia
 Finland
 Lithuania
 Singapore
 Austria
 France
 Luxembourg
 Slovakia
 Belgium
 Georgia
 Malaysia
 Slovenia
 Bhutan
 Germany
 Malta
 Spain
 Brunei
 Greece
 Monaco
 Sweden
 Bulgaria
 Hungary
 Netherlands
 Switzerland
 Cambodia
 Iceland
 New Zealand
 Hong Kong
 Canada
 Ireland
 Norway
 Turkey
 Croatia
 Italy
 Poland
 Ukraine
 Cyprus
 Japan
 Portugal
 United Kingdom
 Czech Republic
 Laos
 Romania
 United States
 Denmark
 Latvia
 San Marino
 Vatican
 
 South Korea
How long is Kuwait e-Visa valid for?
The Kuwait visa is valid for 30 days after issued. This means that you have to enter Kuwait within this period. The visa will clearly have the issue date printed on it. The Kuwait eVisa allows for a Single Entry and a maximum stay of 90 days in Total. This visa is for tourism purposes only.
You can get it at the nearest Kuwaiti Embassy or leave it to iVisa, which has collected the most relevant information on how to fill out your Kuwait visa application. You can start at any time, as we will automatically queue your order until it's the right time for processing.
What do I need to apply for a Kuwait eVisa?
We require the following to submit your online visa application form:
Passport Personal Details Scan
Last Page of Passport (if applicable)
Birth Certificate (if applicable)
Valid email address
Payment method: Credit or debit card
NOTE: If you don't have a recent digital passport photo, iVisa.com also provides the Kuwait Passport Photo service. Check out our video about getting the perfect passport photo as well.
We recommend you watch this video too if you want to learn how to take photos of the required documents.
Do I need a Kuwait Visa if I'm transiting through the country?
If you are transiting through Kuwait and are spending more than 24 hours in the country or want to leave the airport, you must apply for a transit visa for Kuwait, valid for a maximum stay of seven days.
How can I apply for the Kuwait Visa online?
To get your Kuwait visa application with iVisa.com is easy, you'll only need to follow these 3 simple steps:
Step 1: Provide basic information about yourself and your trip by answering a couple of questions. Be especially careful and make sure you are selecting the correct document or visa you wish to apply for.
Step 2: Once you have all the necessary documents and have provided the correct information, you just have to choose the processing times you are going for. You can make the Kuwait Visa online payment using a credit or debit card.
Step 3: Finally, add the documents required and click 'Submit.'
You will receive an email with a PDF confirmation of your visa with a QR code attached that our team will send you. When you arrive in Kuwait, you only need to show it with the other required documents at the airport, and you can begin your journey.
What are the costs and processing times of the Kuwait Visa?
The cost to get your Kuwait visa will depend on the processing time you choose and how fast you need your Kuwait visa application. By applying with iVisa.com, you can select any of the three processing options below:
Standard Processing Time:

8 days

-

USD $71.99

.
Rush Processing Time:

6 days

-

USD $123.99

.
Super Rush Processing Time:

4 days

-

USD $186.99

.
These costs include both the service and government fees.
I am traveling with children. Do I need to create a separate tourist visa application for them?
Each adult visitor to the Republic of Kuwait is required to submit an e-Visa application in their personal account. Parents can apply for their children in their accounts.
View a Kuwait Visa Sample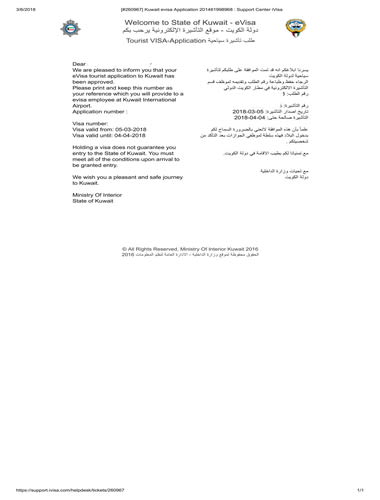 To begin the process, fill out your Kuwait visa application here.
Kuwait COVID-19 Requirements
Do I need a negative COVID-19 test result to enter Kuwait?
There are no longer any COVID testing requirements to enter Kuwait
Do I need a COVID vaccine or vaccination certificate to enter Kuwait?
No, you don't. As of today, COVID vaccination passports or certificates are not mandatory to enter Kuwait. Since information may change quickly, we advise you to follow up on the latest Kuwait travel updates and/or contact your local embassy.
Do I need to quarantine when I get to Kuwait?
Quarantine requirements: There are no quarantine requirements.
What else should I keep in mind before traveling to Kuwait?
What is a GCC resident?
GCC stands for Gulf Cooperation Council (GCC), a political and economic alliance of Middle Eastern countries: Saudi Arabia, Bahrain, Qatar, United Arab Emirates, and Oman. A GCC Resident simply means that you are a resident of one of these countries.
I have a residency in a GCC country. Can I still apply for this e-Visa online?
You can ONLY apply online IF you have residency (exceeding 6 months when applying for e-Visa) from any of the following GCC countries: Saudi Arabia, Bahrain, Qatar, United Arab Emirates, and Oman.
A copy of the Sponsor's GCC residency must also be sent with your e-Visa application, as well as for dependents such as a spouse, child, domestic labor, etc., who will be presented with you on arrival.
The applicant's work according to the GCC residency should be one of the following: Consultants, Doctors, Engineers, Lawyers, Judges & Members of Public Prosecution, University Teachers, Press & Media Staff, Pilots, System Analysts & Computer Programmers, Managers, Businessmen, Diplomatic Corps, University Graduates – Owners, Managers, and Representatives of Commercial Companies and Establishments.
What should I do if the data on the processed e-Visa does not match my passport?
Data inconsistency between the e-Visa and your passport will render the e-Visa invalid. You will need to re-apply, making sure that the information matches exactly. If you find errors in your application, please inform us ASAP.
Can I apply online if I do not have a valid passport but a temporary travel document?
No, unfortunately, you can't apply online if you do not have a valid passport with at least 6 months of validity. Contact the nearest Kuwait embassy for more info.
Where can I learn more?
Our outstanding customer support team is always available to help you. Email them at [email protected] if you have any questions about this or other travel documents. They are experts in processing travel documents and visas of all kinds.
Required Documents to Apply
Passport Scan

Last Page of Passport (if applicable)

Birth Certificate (if applicable)
Important Instructions
The Kuwait online visa is a single-entry visa that allows travelers to enter Kuwait for a maximum stay of 90 days in Total.

The purpose of the trip must be tourism.

You should carry at all times your e-Visa on a personal device (phone/tablet/computer) or as a printed copy.

Travelers who want to visit Kuwait must have a passport valid for at least six months from the planned date of entry.

In addition to the online fee for the e-Visa you may be required, based on your nationality, to pay a fee of approx. 10 USD / 3 KD upon arrival to Kuwait.
GCC resident applicants:
If you are a resident of a GCC country (Saudi Arabia-Bahrain-Qatar-United Arab Emirates-Oman), you can also apply online using proof of your GCC residency card (valid for at least 6 months).

To qualify for this eVisa, GCC applicants should be one of the following: consultant, doctor, engineer, lawyer, judge/member of public prosecution, university teacher, press/media staff, pilot, system analyst/computer programmer, manager, businessperson, diplomatic corps, university graduate, owner, manager or representative of a commercial company or establishment.

The applicant must not have any security restrictions preventing them from entering or exiting the country.
IMPORTANT: Kuwait Visas are not processed on weekends (Friday and Saturday).