Thanks to the initiative of local authorities to promote international travel, Saudi Arabia has welcomed a lot more visitors to its stunning stretches of sand and beaches in recent years.
And, even though the pandemic led to the closure of the borders to protect residents and workers, local health authorities stepped up to the task to establish international health regulations that will encourage safe travel in the country.
Saudi Arabia is a marvelous destination in the Middle East. Its bustling cities, impressive landscapes, and captivating culture will make your trip unforgettable.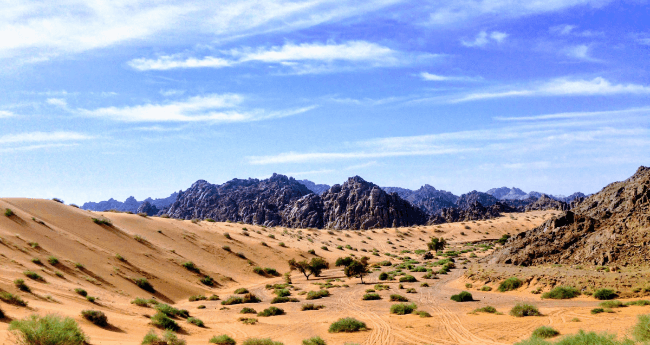 What do I need to travel to Saudi Arabia?
Depending on your nationality you might need to apply for a visa. Nowadays, most passport holders can obtain an electronic visa (e-Visa) online. You can easily check if you qualify for one with our visa checker tool. If you need a paper visa, you will need to reach out to the nearest Saudi embassy.
Passengers are no longer required to obtain a health declaration form before entry to Saudi Arabia.
Lastly, you will need to consider the health-related requirements. Depending on which parts of the country you are visiting, and when you decide to travel to Saudi Arabia, you might need to get a vaccination for some diseases.
Which vaccines should I get to travel to Saudi Arabia?
Although the vaccines are not mandatory for most travelers, the World Health Organization (WHO) does recommend obtaining some routine vaccines to enter Saudi Arabia. The recommended vaccines are COVID-19, hepatitis A, hepatitis B, yellow fever, rabies, meningitis, polio, and tetanus.
If you're coming from a country with a high risk of yellow fever transmission, then you will be required to present proof of your immunization status on arrival. Meningitis and polio vaccination is required if traveling during Hajj, an annual Islamic pilgrimage that attracts thousands of international travelers and Muslims each year. The meningitis vaccine is particularly important, and it's given to unvaccinated travelers and those at increased risk at local medical facilities or at the Saudi Ministry of Health upon arrival.
If traveling during Hajj, make sure to bring proof of your vaccination status.
How do I get a Saudi Arabia Tourist e-Visa?
If you qualify for an electronic visa, you can easily apply through iVisa's simplified application process. All you need to do is follow these three steps:
Step one - Application: Complete our application form with your personal information and details of your trip.

Step two - Confirmation: Make sure that all the details of the form are filled out correctly to avoid any delays or issues with your application. Once you are sure, upload the required documents.

Step three - Payment: Select your processing speed and preferred method of payment. We accept credit or debit cards.
You can easily add health insurance to your visa application. iVisa makes it easy for you to obtain all the travel documents you need in one place.
What documents do I need to apply for the Saudi Arabia Tourist e-Visa?
To apply for a visa, all you'll need is a valid passport, with at least six months of validity after your arrival in Saudi Arabia. Additionally, you will need a recent passport photo. For best results, we recommend that you get one at a photo studio.
You can also use our photo service to obtain a digital one.
What is the price and processing time of the Saudi Arabia Tourist e-Visa?
The full price of the visa will depend on how fast you want to get it. We offer three processing times:
Standard Processing:

5 days

for

USD $175.49

.
Rush Processing:

3 days

for

USD $198.99

.
Super Rush Processing:

24 hours

for

USD $223.99

.
Additionally, applicants will need to pay the government fee of USD 87.00 and the medical insurance in case of an emergency abroad, for USD 38.00.
The Saudi Arabia e-Visa is a multiple entry visa and has a validity of 1 year after issued. You can use it to travel around the country for 90 days in Total.
Is there anything else I need to know before my trip to Saudi Arabia?
You should be mindful of the culture, rules, and local laws. Saudi Arabia is a traditional Muslim country and some western behaviors can be considered disrespectful and, in some cases, they can even be illegal. Make sure you learn about the local traditions before your trip.
Abiding by local laws and traditions also includes following the proper dress code. Do not wear clothing that leaves skin exposed or that is transparent. Women should also consider wearing a head scarf.
We also recommend that you bring your international driving permit and rent a car to move around in Saudi Arabia. Car accidents are frequent among local drivers, so you might be safer driving your own car.
Where can I learn more about the Saudi Arabia Tourist e-Visa?
You can count on iVisa to stay informed. For further information on the Saudi Arabia Tourist e-Visa and health requirements, reach out to our customer service team via chat or email at [email protected]
They are always available to provide you with a personalized service and the best travel advice that will have you returning again and again.